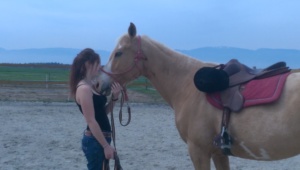 From my earliest childhood, my bond with animals has been my passion.
I observed, cared for, loved them and above all I listened to them.
My passion for horses came to me quite naturally, a bond was created, indescribable, strong and moving.
Like most people, I started riding 1 time a week in a riding school, then 2 times. I participated in camps, internships, I documented myself …
My observations led me to realize that horses are in demand for listening …
I decided to train in this magnificent world that is the domain of the horse.
In 2010, my Blue Moon mare entered my life. It was the start of a wonderful adventure mixed with fear. I was quickly confronted with her anxieties. We had to get to know and understand each other. From then on, a common work of listening and patience started …
I was fortunate enough to be able to train at Ecuries La Paloma, a place to listen to the horse. From physical injuries to mental injuries, horses have the right to care in accordance with their experiences.
Whether the horse's life course is heavy or light, anything is possible!